This is a Sponsored post written by me on behalf of DISH. All opinions are 100% mine.
I don't watch TV in a conventional manner. I hate commercials and my schedule is so crazy from week to week that I would never be able to sit down and watch one show on a consistent basis. Plus Mr. Misadventures doesn't like a lot of shows that I find entertaining.
The solution for me is watching them on my iPad. I have been participating in a lot of tablet giveaways lately because as a traveler, I think it is an essential tool for a variety of activities on the road. I catch up on my TV shows at the airport (there are always delays where I have to kill time), on the airplane (nothing makes a flight go faster) and in my hotel (so that I don't have to bad TV and all those commercials!).
At home we had a really old DVR that would only record one show at a time, and with our set-up, one channel. We always left it on TV 5 to record the French news and other programming.
Because of how our system worked at home, I was purchasing them via iTunes and downloading them to my iPad to watch when I travel. At last count, there are 25 shows that I watch. At the end of last year I took a look at how much I had spent buying those shows and nearly had a heart attack!
Then we transitioned to a new system, the Hopper from DISH and my entertainment life (and my budget) changed dramatically!  Now with features like DISH Anywhere™ I am able to watch live and recorded TV anywhere when traveling.  More importantly, I am able to watch recorded TV without an Internet connection when traveling.  That feature is called Hopper Transfers™ and it has literally transferred money back into my wallet, have you seen the price of hotel wifi lately!?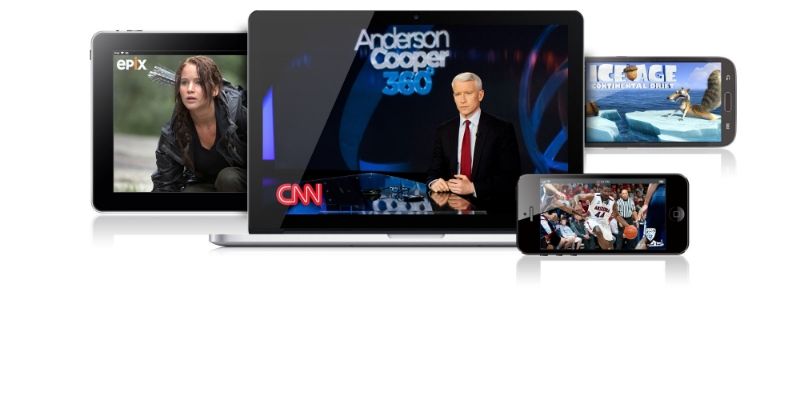 When I first started using it, I would record the whole show commercials and all, and it was the one thing I really missed about buying shows from iTunes.  I didn't have to watch the commercials, I simply fast-forwarded them, but then figured out I could record without the commercials in the first place! AutoHop™ allows me to "hop" over them, aren't they clever?
Tuesday and Thursday nights there are sometimes three shows recording at the same time (how does a human watch it all?) but with PrimeTime Anytime,™ I actually can record up to six, you may never see me on this blog again if I take advantage of that!
This isn't a challenge in the Misadventures house, but I know my friends with kids who have TV's all over the house will appreciate Whole-Home HD DVR Functionality which lets you pause, rewind and record live TV from any room. You can also access your DVR library on all these TVs so you can record a movie in the living room, start watching it in the bedroom and then finish in the kitchen – you may never see your family again….that may be a good thing sometimes!
Since the hubby travels so much too, if I forget to set-up a recording, I can set it up myself, even remotely. Love that. Sometimes I see advertisements for shows while I am transit and I can look for the show and set-up a recording while it is top of mind.
It is win-win AND my budget is no longer taking a massive hit! It's a great deal. You can Get the Hopper™ free when you sign up for DISH. Packages starting at $24.99. (For 12 months with 24 month commitment. Restrictions Apply.)
Interested in the details? Learn more about the Hopper and you'll quickly learn that there is no cheaper way to watch your favorite TV shows on the road. I am an avid user and love it! While you are at it, LIKE DISH on Facebook and Follow DISH on Twitter. If you have seen any of their commercials on Facebook, YouTube or the "old-fashioned" way on actual TV, you'll know these guys are witty!
How about you? Do you have travel gear that keeps you entertained on the road? Do tell!